Business owners who operate service businesses serve as everyday heroes who make life run smoothly. This is perhaps the reason why service-based businesses are always in demand. Here in this article, I have covered all the key steps to start a service business in minimum time and with very little money. Read till the end to know how to start and grow your service-based business.
Why Start a Service Business?
Of course, this is a crucial question and you need to know the reasons too.
You can consider starting a service business

because

it's

easy

to

start

and

you are the product!

Any service business can be

operated a

s a side

business

while having a full-time job.

There

are

many

opportunities

for growth and learning.

You

'll

be

able to

sharpen your expertise, knowledge, and skill while making money

in

the process!
What Type of Service Business to Start – Research Your Business Idea
First things first: What will you sell, and how/where will you sell it? According to the U.S. Chamber of Commerce, a few service businesses which will be in demand in 2022 and beyond are
residential and commercial cleaning
errand services like shopping, delivery, and so on
freelance jobs like copywriting, graphic designing, SEO, and related services.
consulting services related to IT and cybersecurity
telemedicine and therapy
subscription box services
virtual personal and professional training
So, you can see, that the possibilities are almost endless. But you need to make sure your offer is something that people want to buy. This is why detailed research is needed to assess the demand for your service business idea.
When you settle on a business idea, think about how you can differentiate your business from the rest. You can even analyze your competitors to discover ways to differentiate your offer. Also, you must learn to Sell Yourself as a Product. Because at the end of the day, it is YOU who is the product in a service business.
How Do Your Charge Your Services Once You Start a Service Business?
It is a tricky question. And you find the answer after a detailed study and consideration. You'll never make a profit if you price your services too low. On the other hand, you may drive away potential customers if you price the services too high.

People will sometimes get lucky and predict fees that they believe their service is worth. And then they instantly hop on board! However, it is rarely that straightforward. When determining how to price your offerings, consider a few factors like location, competition, and competence.
There are three methodologies for pricing a service-based operation, no matter how you slice it. The one you select will be determined by the services you provide.
The First Strategy: Pricing Based On An Hourly Fee

The most straightforward way for freelancers and service-based enterprises is to bill by the hour. This is because many regular employees get paid on an hourly basis. Hence your potential clients will be familiar with this concept and they will benefit too. For instance, if you are offering services like online proofreading, bookkeeping, coaching, or consulting, you will prefer getting paid on an hourly basis.
The Second Strategy: Package Pricing
You can offer package services and charge a flat fee for a combination of services.
Let's explain with an example. Suppose as a freelance writer you charge $200 for a blog post irrespective of the time taken to complete the task. This is defined as a package service. Now if you offer to perform a few additional tasks like keyword research, followed by blog post writing, graphic designing, and WordPress upload, you can easily hike your rate to $500. This way you add value to the basic package to justify the price.
The Third Strategy: Pricing that Covers Both

There are service businesses that charge an hourly rate for a bunch of services and then present it as a package. This is when they opt for Combination Pricing.
Let's say you offer relationship counseling. You decide to design a variety of packages to cover different types of customer needs. For instance, many customers are interested in one-on-one consulting which is flexible so that it doesn't clash with their busy schedules. This is when you can present a combination package by informing clients of one-on-one time with you, be it in-person/video chat/WhatsApp, or phone call.
How Do You Decide The Right Pricing For Your Service Business?

Now that you are ready to finalize the pricing, here are a few steps you need to complete to calculate the right numbers.
Cost-Plus Pricing- A Popular Way to Get Started With Your Service Business Pricing

While deciding your service business prices, you can calculate the actual cost of providing a particular service. And then you can add your desired profit.
However, there are many service businesses, especially, freelancing where people tend to overlook work-related costs. Ultimately they end up underpaying themselves. 
For example, if you are a freelance graphic designer, you need to add a fraction of the cost of your graphic design software. Also, you should consider expenses related to using WIFI and software/apps for marketing and promotion. Setting up a home office also involves a certain expenditure. And finally, it is Very Important to remember that your earnings are taxable! So, all these factors are needed to be considered to come up with the final pricing of your graphic design services. 
Know Your Competitors
Research your competitors in your particular service niche to know how they are charging to keep their prices competitive and attractive. 
A popular channel that you can use for this research is Upwork. Visit Upwork, create a profile and search for job posts matching your skill. Find a suitable job post and scroll down to the bottom of it. You can find the client's work history and feedback. This process will give up an approximate idea of the payment this client has done for similar jobs in the past.
Besides Upwork, there are other platforms like Freelancer, Fiverr, PeoplePerHour, etc., which also let you do research on your competitors and their market rates. 
Make sure that you are comparing yourself to people who match your skill, experience, and expertise. You'll find many freelancers with little to no experience offering dirt-cheap services. However, they are not really your competitors! When you charge a higher rate, learn how to illustrate your value. 
Learn The Tricks to Illustrate Value

You can ask clients to pay a higher rate once you learn the tricks to illustrate your value. Let's say you set up a website for your service business. Else you can post a profile on a service platform like TaskRabbit or Care.com. While creating a profile on any of these platforms, you have to look for opportunities to stand out from competitors.
There are many ways to highlight value on your profile, the most common being adding years of experience. You can mention what specific skills you have, and whether you are open to offering additional services or help if the need arises. For instance, if you are a dog walker, you can also add other services like house sitting and daycare to offer on request. 
How to Start a Service Business in 7 Days?
Now that you know what service business to start and how to price your services, it's time to get started! Here are the steps to follow:
Chose a Suitable Business Name
Often service businesses decide to incorporate the owner's name into it. While it's perfectly fine to do so,  you can tweak the name a bit to make it sound interesting! Else you can take the help of a business name generator to suggest a suitable business name in your niche. 
For instance, if you are planning to start a house cleaning business, here are a few suggestions to add your own name while making the business name sound interesting:-
[Name]+Smart Cleaning [Name]+Quality Cleaning [Name]+Blink Cleaning [Name]+Enviro Cleaning [Name]+Radiant Cleaning
Once you chose a perfect business name, the next step is to create a logo that will appear on your business cards, social media pages, website, and other marketing materials. 
Get Your Business Registered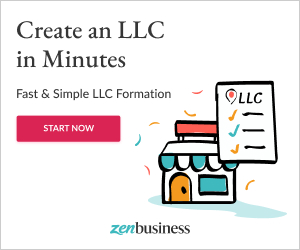 Some may decide to skip this step while starting a service business, but I strongly recommend not to do so! Generally speaking, the small business registration process has become simple nowadays. In fact, you can complete the process online, with minimum documentation. 
First, you need to decide whether to register your service business as a proprietorship firm, a private limited company, or a limited liability partnership. Accordingly, you can proceed with the paperwork and other formalities. 
In case you don't want to get involved in the registration process, you can consult a legal professional to guide you through the process.
Know The Funding Options To Start Your Service Business
Is it possible to start a service business with no money? The answer is "No!"
Indeed, you don't need a huge investment to kickstart a service business. Yet you need some money to complete the basic procedures like registration, setting up a small office, and buying new equipment/gadgets if the business demands so. 
Since the startup cost is minimal, most service business owners decide to start with their own money. However, there are other funding avenues that you can explore if you don't have enough money to invest in your business. 
Focus on Establishing Your Business Brand
You've named the service business and got it registered too. Now it's time to Build up your business brand.
It is not easy to build a brand around your service business that looks professional and beats the market competition. This is why you need to get active in establishing your business brand. Attend networking events and use your business cards strategically.
Also, it is important to work out a neat, exclusive package for your service business that appeals to your target customers.
Continue reading to know more about how to build a brand around your service business and promote it successfully. 
Be Active on Social Media to Get Your First Client
When you start a service business and aim to grow it quickly, you have to introduce your business on social media platforms like Facebook, Twitter, Instagram, YouTube, and alike. All of them are great places to reach your target customers quickly. No wonder social media marketing is considered a cost-effective way to establish your business brand and gain recognition too.
Here are a few ways to use social media to get your first client:
Promote discounts and introductory offers to drive  sales
Tell your followers about the kind of service you offer, what are your specialties, key skills, etc.
Share knowledge (for free) related to your area of service, e.g., if you offer home cleaning services, you can share useful information about eco-friendly cleaning.
Tell your own story of starting a business by overcoming challenges. People can quickly relate to such inspiring stories. 

Contact Your Existing Circle to Start a Service Business And Get Your First Client

Take the help of your existing connections to spread the word about your service business. And if you are lucky enough, you can get your first customer from this circle only. This is because service businesses thrive on word of mouth. When hiring, people usually prefer reliable service persons who are referred by a close circle. 
Think of Strategic Partnership
Yes, a strategic partnership does work, especially for solo entrepreneurs. However, you need to know exactly how to use strategic partnerships to grow your service business. The most common partnership that service businesses consider is strategic marketing partnership.
Let's say you offer social media marketing services. Your partnership might work well with a web developer who refers you when his client asks for social media management assistance. This is the most basic type of strategic alliance which you can consider at an initial stage to grow your business brand beyond the known circle. 
Conclusion
Starting a service business and making money out of it is not easy due to stiff competition in the service sector. This is why you need to be methodical in your approach and be patient to make your business idea work. 
Once you start a service business and find your first customer, don't think of taking a break! Rather you should focus on evaluating what has worked well, particularly in terms of customer acquisition, time management, and revenue growth. Accordingly, you have to plan to reinvest and grow your business successfully.
Do you find the article useful? Please "Share" it to help it reach more people looking for similar information!