Are you planning to start a cookie business from home because your friends and family simply LOVE those mouth-watering cookies prepared by you? Then you need to follow this ultimate guide where I teach you all the necessary steps and tricks to launch a profitable cookie baking business that makes serious cash. And yes you can follow this guide for other baked items too, like cupcakes, brownies, layer cakes, and so on.
Ask Yourself These Key Questions As You Plan to Start a Cookie Business From Home
Just like starting any business, you need to have a clear vision of your cookie business too. And by answering these key questions, you can clear all doubts you might have about baking cookies and selling them for money.
What should be my product line, i.e. the types of cookies that I want to sell for money?
Who are my target customers? Do I sell within the city/ nationwide and beyond?
What are the laws that govern the food-selling business in my state?
What will be my business USP, i.e. Unique Selling Point?
Do I have cookie recipes that are little-known and yet delicious?
Can I find customers consistently to sell cookies and make profits?
Do I know the right ways to package cookies as per food safety & hygiene norms?
Am I ready to handle the logistics related to shipping and delivery at low costs?
Do I have enough funding options to start the cookie business?
If the answers to these key questions sound convincing and exciting to you, then they will convince your potential customers too. In this article, I will try to answer these key questions.
But before we begin, let's shift focus to the key necessity of any business, i.e., the Price Point. Of course, you are eager to know how much money you can make from cookies, aren't you?
How Much Should I Charge For Home-Made Cookies?
Many make the mistake of deciding a random price to sell home-baked food items. Don't do that. I suggest doing a proper calculation to decide the price point. The calculation is not that complicated. Let's take a look.
How Much Should I Charge For a Dozen Cookies?
Usually, cookies are sold in dozens, i.e., one box containing 12 cookies.
So, you need to consider the costs as follows:-
The total cost of goods to make a piece of cookie. For instance, to make banana cookies, you need mashed bananas, eggs, sugar, flour, and nuts. To calculate this cost easily, you can buy the necessary ingredients in small proportions.
A proportionate cost of equipment and vessels to prepare the cookies.
An approximate cost of oven/microwave, that you may need for the preparation.
Cookie packaging costs.
Advertising and promotion expenses to spread the word about your business
Delivery and shipping costs
Expenses related to hiring staff for baking/ packaging/delivery, especially when you receive bulk orders.
Make a total of all these expenses to find out the cost price (C) for a single piece. Then ask yourself how much profit (P) would you like to make on each piece. Then add this profit to your cost price to get the selling price.
Thus the formula looks like this Cost Price (C) + Profits (P) = Selling Price (S) of a single piece of cookie
Selling price x 12 = Selling price of a dozen cookies.
Remember when you are trying to find the answer to the question "how much money can I make from cookies?" you should consider:
1. Your competitors' prices
2. The profit margin carefully- Ideally it should be a bit higher than the actual profit you target
3. Experiment with different price points to find out the best price that gets you more sales.
Now let's move on to the key questions that I have mentioned in the beginning and try to explain them further.
How to Decide The Product Line – The Key Step to Start a Cookie Business From Home
This is a major decision you need to take care of while starting a homemade cookie business. Why? Because choices are so many that you may feel like offering everything! However, while starting a food business on a small scale, it is always advised to keep it simple and easy for your buyers.
You can decide on the product line based on the types of cookies you prefer baking. Else you can consider the cookie choices of your friends and family. Otherwise you may think of exploring a new segment in cookie baking provided you have enough confidence.
While deciding on the product line, remember people are shifting to fat-free and gluten-free food products. Here are a few healthy niches to consider while starting a home-baked cookie business:-
Paleo diet
keto-diet
Protein-rich
Zero trans-fat
Real fruit and nut
Low-sugar, high-fiber
Healthy meal replacement
Organic vegetable
Who Do I Target To Sell Homemade Cookies – Find The Answer to Start a Cookie Business That Makes Money
Do you plan to sell locally in your city? Then your target customers will be your neighbors, friends, and acquaintances living within a certain radius. Else you can plan it big and create a proper brand to sell cookies nationwide. Thus you can target the entire city, state, and beyond.
If you decide to sell in your city then you can operate on a small scale with limited resources. However, targeting buyers nationwide is a different ball game. In that case, you need proper funding to create your cookie brand with strong support systems and processes.
What Are The Laws that Govern The Food-Selling Business in My State?
Starting a food business without prior knowledge of the necessary rules and regulations sounds like gambling. You are likely to lose money if you don't know what are the state laws that govern the food business in your locality. Often foodpreneurs tend to overlook the business registration part which can lead to serious legal hassle in the future.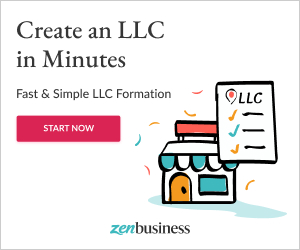 The quick solution is doing a Google search to find out the laws to follow to start a new venture in the baking space. And then you need to complete the procedure on your own. Else you can take the help of an expert like ZenBusiness who can guide you through the entire process. They promise fast and simple business registration while abiding by state-specific rules. They have a Starter package that costs $49 only plus state fees. This beginner package is the best fit for home-based businesses running on a strict budget. Spending a small sum of money to complete the legal formalities is always better than having the tax department guys knocking at the door, right?
What Is The USP of Your Cookie Business?
I guess you already have an idea once you decided on a niche or product line for your cookie business. For instance, your cookies may come with 40% less fat or they might be gluten-free. You can promise cookies that are soft-baked and rich in fiber and fruits.
Can't decide on your cookie business's unique selling point? Then you can take a look at the top cookie brands and their taglines. I am sure you will be able to come up with a USP and tagline for your cookie business.
Then the next task is to find out an appropriate name for your cookie business. You can make a list of 5-6 suitable names and check the business name availability on ZenBusiness. Once the name is finalized, you can register it and get started immediately.
Do I Have Cookie Recipes That Are Little-Known and Yet Delicious?
Buyers come to you not because of the attractive business name, or flashy taglines. They will buy from you only if they like your cookies, right! So, you might be having a cookbook inherited from your mom or grandmom but that might not be enough to start a cookie business from home and make serious cash. You should always try to introduce some new concepts to the existing recipes. And they may sell better.
I strongly suggest that you experiment with different cookie recipes. Feel free to introduce variations in an existing recipe. For instance, you can add exotic spices and herbs to the traditional chocolate chip cookies to introduce a different taste and smell.
Finally, it's going to be lots of trial and error before you come up with unusual cookie recipes that are loved by your friends, family, office colleagues, and close circles. These are the recipes you're going to put on the menu.
How To Find Customers Consistently to Sell Cookies and Make Profits?
Now that you know the steps to start a cookie business from home, the obvious question to ask is "how to sell my cookies and make profits?" Mostly homemade cookie businesses face this problem of generating revenue consistently. You may get bulk orders during weekends or on special occasions. And then no order on the weekdays. You don't want that, do you?
So, your goal from the very beginning is to get orders every single day no matter if it's a holiday or workday. And this can be achieved if you spend less time baking and more time promoting your business.
No matter how delicious your baked items are, if you don't spend time marketing your cookie business, you're not going to make any profit. So, it is important to work out a marketing strategy that includes steps to find and attract new customers while ensuring re-orders from existing customers.
How to Promote Your Homemade Cookie Business?
Click Attractive Pictures For Social Media and Print Media
Attract your customers with delicious-looking cookie pictures and they are going to buy your products. Plan the photoshoot. You need to have a basic idea of food styling photography to make your homemade cookies look fresh and delicious. Once done, you can upload these pics on social media and woo your followers to take an action.
Don't forget to add a CTA (Call-to-Action) message. The most common CTA messages that work are Buy Now, Place the Order Now, Grab it now, and so on.
Confused about crafting the perfect CTA? Check out these CTA examples for inspiration.
Request Feedback From Existing Customers
Word of mouth works always, as it brings credibility. However, the process might work slowly to generate leads. Therefore, you can have a word of mouth strategy but don't rely solely on it. You can always request customers to share feedback on social media platforms after making a satisfactory purchase. To encourage them further, you can work out a referral program, whereby existing customers are rewarded with special discounts if they ask their friends to buy your products.
Promote Vigorously on Social Media and Print Media
I feel it's easier to promote your cookie business on platforms like Facebook, Instagram, Pinterest, and YouTube. Why? Because people simply love those captivating images of chocolate-filled or soft Lofthouse-style frosted sugar cookies! This is why most young entrepreneurs rely on Instagram and Pinterest to bring more leads.
And if you are the one who is yet not comfortable establishing your cookie business's digital presence, you can always consider purchasing print media ads to amplify sales. Print media adverts still deliver results, sometimes, even faster than digital media.
You need to figure out what works best for your cookie company before focusing on a particular medium.
Consider Collaboration With Local Bakeries
You might be wondering "aren't local bakeries my competitors!"
The fact is many local bakeries collaborate with larger bakeries, simply because they don't have the resources to bake different types of products at affordable prices. Therefore, you can always approach local bakeries and request them to promote your brand to their customers. Of course, you can work out a commission structure to encourage these local bakeries to push your products over others.
Grab Every Opportunity to Sell Once You Start a Cookie Business From Home
A weekend outing with friends? A kitty party or a family dinner? A morning walk or a visit to the local grocery store where you keep coming across known faces? Grab every opportunity to talk about your cookie business. Even better if you can carry samples to distribute so that people know if your products are worth buying.
Also, you can attend food fairs, farmer's markets, networking events, and baking competitions to promote your homemade cookie business. Such events and meets are the perfect places to share your samples, brochures, and business cards.
Remember, you can't be shy or hesitant to talk about your business. If you can sense an opportunity, grab it to sell your baked products.
Do I Know the Right Ways to Package Cookies As Per Food Safety & Hygiene Norms?
If you don't pack your cookies properly, there's a chance that they turn into a bag of crumbs by the time the box reaches the customer. Thus you lose the chance of getting a second order from the buyer.
So, how do you package cookies to deliver them fresh and in one piece? Trust Google and YouTube to provide you with ideas and inspiration. For instance, you can consider cellophane-wrapped bowls, folded paper plate baskets, pleated tissue paper, glass jars, wax paper-lined paper envelopes, ribbon-tied cellophane bags, etc.
Remember to insert a 'thank you', or 'order again', note. You can even include a few interesting tidbits about your venture. People love reading such notes and start-up stories. Not to forget the fact that your cookie packaging must include the business or brand name and contact information.
How to Ship and Deliver Homemade Cookies Without Spending Too Much?
Transportation costs can be very expensive. In fact, many small businesses suffer due to high transportation costs that can sometimes rise to 20% of the cost price! Hence, you need to plan the shipping and delivery carefully so that it doesn't affect the customer experience and your budget.
Here are a few things you can do to control the delivery costs:-
Schedule the delivery slots location-wise and allot delivery persons accordingly.
Offer discounts if the customer opts for self-pickup or 1-3 days delivery. On the other hand, you can charge more for express or same-day delivery.
You too can deliver when free. This can save some cash.
Automate the delivery system to save time and money, while offering better service.
Outsource the entire shipping and delivery to a competent company with a good track record, especially for cross-border deliveries.
You need to try several methods and companies to see what works best for you but avoid overspending on transportation.
Do I Have Enough Funding Options to Start The Cookie Business?
Let's face the fact that when you are starting a food business from home, you have limited funding options. The bank and other established lenders won't give you a loan without a track record of the past three years of running the business. You can get an unsecured business loan at a high-interest rate which might not be affordable to you. 
Thus self-funding is the best way to start a cookie business from home. Else you can take a loan from friends or family members who know you and trust you. 
Still, if you want to know how startup owners raise business capital, click this link to find the answer.
Is It Possible to Run a Profitable Cookie Business From Home? 
Any business can be successful when it understands what customers want and gives it to them at an attractive price without compromising on quality. And this logic applies to your homemade cookie business too. 
Yet to clarify the point, I would like to stress the fact that to run a profitable cookie business from home you need to boost sales and never stop working on the marketing strategy. 
Your sales figure shoots up only when more and more people try and buy your products. When you have satisfied customers who keep coming back to you and refer your products to others, your business keeps growing every year. 
So, yes if you enjoy baking cookies that people love to eat, and if you are ready for the roller coaster ride called "entrepreneurship" then you can make your cookie business profitable in a year or two. 
Hope you have enjoyed reading the post! If yes, then please click the "Share" button to help it reach more people who might benefit from the information.