Are you planning to start a business in Dubai? Then you are going to take one of the best decisions in life. Right now the country encourages entrepreneurship with a host of benefits offered to entrepreneurs and investors. You can benefit from the country's low tax rates, reasonable import duties, and state-of-the-art infrastructure. The country boasts of a strategic location that connects the East and the West. So, if you are the one with an entrepreneurial mindset then you would like to know what are the profitable business ideas in Dubai to start with little capital.
But before I reveal the best businesses to start in Dubai with little investment, let me share a few interesting statistics that show how new businesses are thriving in the "City of Gold".
According to data shared by Wam State News Agency, Dubai issued more than 72,000 new business licenses in the year 2021, which is almost a 40% jump from the previous year. Of these newly registered businesses, 37% are solo establishment companies, whereas 26% are  LLCs. Only 13% are civil companies.
So, let's look at the best businesses to start in Dubai to make money in 2022 and beyond.
What Are The Profitable Business Ideas in Dubai To Make Money in 2022 and Beyond?
Start an Event Management Business – Target An Ever-Growing Sector in Dubai
Dubai is a happening city where some events are always taking place. Be it planning a cruise party or organizing a fair, event management companies are never out of work. Even statistics of the event management sector are encouraging too. This sector keeps growing at an annual rate of 11% and is expected to touch a valuation of $1.55 trillion by the year 2028. 
The events and entertainment industry that suffered immensely in Dubai during the pandemic, has managed a stronger comeback. Now, this sector looks bigger and stronger than ever before. In fact, the country is perfectly poised to host more than 400 global events by 2025.
So, yes, starting an event management company or offering related services can be one of the best business ideas in Dubai in 2022 and beyond. Already the number of business exhibitions, conferences, and special events is on the rise in Dubai. And of course, don't forget all these private events like weddings, anniversaries, and baby showers, that keep happening year-round in Dubai.
What Are the Basic Requirements to Start an Event Management Company in Dubai?
Your trade name needs to be approved by the relevant authority.
You should receive initial approval from Dubai Economy and Tourism Department To Organize the Event.
If the event needs to be organized at specific locations like beaches or public parks, you might need special approval from Dubai Municipality (DM) and the local Police.
Consider Starting a Food Business – One of The Profitable Business Ideas in Dubai To Start Now With Little Money 
Since we talked about event management, it naturally leads to the popular topic, i.e. "food". Considering the fact that Dubai boasts of global culture, there is a huge demand for a wide range of cuisine too. Yes, people love to visit the famous Eat streets in Deira as well as the rooftop restaurants with stunning views.
While there are many profitable food business ideas, money seems to lie in the fast-food sector. According to Statista, fast-food restaurants in Dubai are likely to reach a sales value of 4.5 billion USD in the year 2022. Thus, it's a good idea to invest in a profitable food business to tantalize the taste buds.
What Are The Basic Requirements to Start a Food business in Dubai?
Prepare a business plan for your food business.
Acquire the food license and other permits from the relevant authorities and

the Food Safety Department.

Apply for food code
Get the infrastructure ready 
Start Your Own Fashion Business/ Brand – Easy To Start Business in Dubai And Cater To Different Client Needs
If you are a fashion designer looking for profitable business ideas in Dubai, you can find endless opportunities in this segment. Why? Because the local population knows their style well. There are super-malls in Dubai where you can easily find all the world-famous fashion brands. At the same time, local boutiques are doing good business too.
As a newcomer, you can establish your fashion brand to buyers willing to try out new brands and styles. To keep it simple, you can start by designing limited products, e.g., headscarves, hats, skirts and tops, gowns, etc. 
If you are confident in your creativity and fashion designing skills, you can find impressive deals from big-shot clients. And you don't need to make a significant initial investment. 
What Are the Basic Steps to Start a Fashion Design Business in Dubai?
Select your fashion business activities, e.g., you can start a retail store, offer services as a personal fashion designer to HNI clients, or launch an e-commerce store of your brand.
Choose an appropriate company name and get it registered according to the format as specified. 
You can get the initial approval from the

Dubai Department of Economic Development (DED) or the Free Zone authority.

Get the trading license by submitting all the necessary legal documents, i.e. Article of  Association, Memorandum of Association, and others.
Open a separate business account. 
Start a Health and Fitness Business – A Sector That's Growing at a Steady Pace
According to data shared by Sportzbusiness, the fitness industry in UAE is growing at a steady pace. It is likely to touch the $600 million mark by 2025 which is a 10.9% Compounded Annual Growth Rate. Offline fitness center membership increases to 6.3% by 2025. Then the online health and fitness sector in Dubai is matching its offline counterparts. Thus the online segment is expected to generate $36.5 million in revenue in the year 2025 which is a 16% Compounded Annual Growth Rate.
If you are a fitness enthusiast who has the necessary qualifications to offer health and fitness services or run your own fitness center, then grab this business opportunity in Dubai! However, you should be ready to work hard and face challenges to build your reputation and clientele.
What Are The Requirements to Start a Health and Fitness Centre/Service in Dubai? 
Plan the business activities, i.e., the types of fitness activities/ services you plan to offer.
To open a gym or fitness center in Dubai, you need to be 21 years+.
You should get approvals from the key authorities, i.e., the Juvenile and Sports Welfare Authority, the Health Department, and The Emirates Bodybuilding and Weightlifting Committee.
You need a trade license from

the DED to open a fitness center in Dubai. For this purpose, you have to submit the signed

Memorandum of Approval (MOA) and NOC, issued for the business trade name.

Find a suitable location to start the fitness center. Else, you can offer the service at your home or at the client's place.
Set up the fitness center with the necessary equipment, and adequate lighting arrangements. Maintain 
Start a Real Estate Management Business in Dubai – A Low-Cost Profitable Business in Dubai To Cater to High-Profile Clients
There's a misconception that Dubai's real estate sector is slowing down. However, the fact is, that real estate investments in Dubai can still generate more than a 6% return. Hence, Dubai remains a more lucrative property market than other prestigious cities like London which generates an average yield of 4.4%.
When there are many willing investors interested in the Dubai property market, that creates demand for services. Thus you can consider offering services like property development and management, property sale and purchase, vacation home management, and the like. 
What Are The Basic Steps to Start a Real Estate Business in Dubai?
Start by outlining your property business activity which determines the type of services you are allowed to offer.
Choose an appropriate company name. Make sure to

avoid words that sound offensive or blasphemous. Before finalizing the name, you should check if it's available to register.

Decide the location. You can pick up

a free zone or the mainland location.

Now, you have to apply for a business license. If you wish to offer

property management and related services, then a professional license is enough to get started.

To get the trade license, y

ou have to make the application to the Department of Economic Development (DED) or to any of the free zones where you chose to set up the business.
Start a Car Rental or Leasing Business
 
People driving down the streets in their swanky high-end cars is quite a common sight in Dubai. And yet, there's demand for rental cars. Why? Because Dubai attracts tourists, entrepreneurs, and expatriates who don't want to invest in vehicles. Rather they prefer to rent or lease a car.
And if you wonder whether the Car rental business in Dubai has reached a saturation point then you are wrong! It is estimated that the car rental and lease market in UAE may post a 7.0% CAGR thus reaching USD 2.5 billion by the year 2023. 
How to Open a Car Rental Business in Dubai?
Find a strategic location for your car rental/ lease business in Dubai. Try to select a location nearby the airport, business hub, or other key tourist points in Dubai.
Build up your fleet of cars and necessary equipment according

to the type of customers you plan to target.

Define your car business activities. Follow the DED official list of activities while defining your car rental activities.
Choose an appropriate company name and get it registered.
Get a commercial license by submitting the license application form and other documents required by the relevant authorities.
Start your business promotion locally

. 
Set up An Advertising Company and Offer Business Promotion Services in Dubai – One of The Profitable Business Ideas in Dubai With Little Investment
When so many new businesses are coming up in Dubai, the demand for marketing and advertising services is bound to go up. The digital marketing sector has seen superb annual growth of 25% to 40% over the past few years. But that doesn't mean that direct advertising is no longer in demand. In fact, many newly established businesses now look for comprehensive services that combine both online and offline marketing and advertising options.
If you have prior experience in the marketing and advertising segment, then opening up an agency seems a viable and economical option. You don't need an expansive office setup or lots of gadgets to open a marketing agency. You simply need to work out appropriate packages that meet the client's needs. And of course, your prime focus will be to deliver results as quickly as possible. Few marketing activities that you can offer are website development and promotion, social media campaign management, lead generation, networking, and so on. 
How to Start a Marketing Agency in Dubai?
Educate yourself about the Dubai market and audience demographics. You should also have good knowledge of the market competition, new businesses coming up in your sector and so on.
Finalize the legal structure of your marketing agency. For instance, you need to decide whether to set it up as

a sole establishment or an LLC and what's the ideal location for your business.

Decide a suitable name for your marketing business and get it registered, according to UAE

naming convention guidelines.

Once the trade name is reserved, you can apply for a business license which is issued by

The Department of Economic Development. 

Now, you can start marketing your business services to get clients. 
Start a Cleaning Agency
If you are looking for low-cost business ideas in Dubai, then consider starting a cleaning agency for a quick profit. Why? Because the cleaning services industry in Dubai has experienced significant growth since the pandemic. There's a growing awareness among businesses and individuals to maintain health and hygiene at home and the workplace. The pandemic has led to high demand for floor scrubbing and disinfection among verticals like hospitals, shopping malls, multi-storied buildings, hotels, etc.
So, yes, this is the right time to offer cleaning services or start a cleaning agency in Dubai. And the best part is that you can start this business with a small investment. The steps to open up a cleaning agency in Dubai are more or less the same as other businesses. You can check out all the steps here. 
Start a Travel and Tourism Business in Dubai
If you give a Google search like "which industry is booming in Dubai", or, "main business in Dubai", you will get the only answer, i.e., tourism. And quite rightly so! Dubai keeps introducing changes in various areas to become a travel and tourism hotspot with global recognition. It has carefully worked out a vacationing culture that appeals to all types of tourists. Thus travel and tourism remain the evergreen sector that attracts investors and entrepreneurs alike.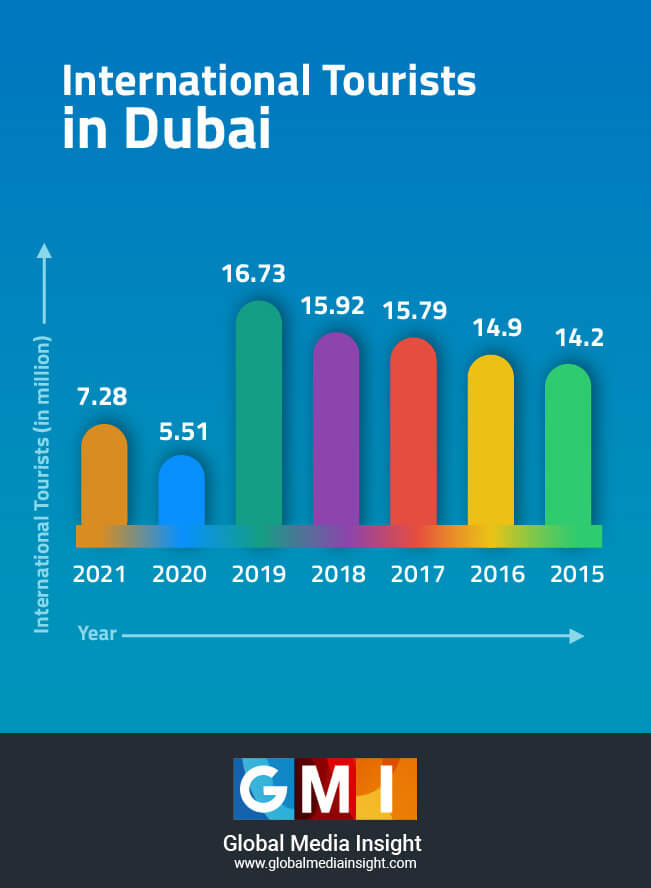 To start a travel and tourism business in Dubai, you need to complete several legal formalities. Here are the steps to follow:-
How To Start a Tourism Business in Dubai?
Decide the types of tourism services you plan to offer. For instance, you can sell comprehensive tourism packages, offer visa-related services, sell travel insurance, help in hotel booking and car hire and also offer customized packages.
Learn about the tourism business licenses in Dubai. Then you can apply for the one that matches your business profile. Let's say you plan to manage tours and events within the city and provide related transport services. Then you need an inbound tour operator license. On the other hand, a travel agent license allows you to offer ticketing services and booking services for flights, buses, hotels, cars, railways, etc.
Get your business registered with

The Department of Economic Development (DED). Also, you need to get a

travel and tourism license from the Department of Dubai Tourism and Commerce Marketing (DTCM).

Once the legal formalities are over, you need to set up an office from where your staff and agents will operate. 
Get the business website ready to sell your tourism business packages and services. 
Offer Project Management Services in Dubai
Do you have the skill, knowledge, and experience to help a business achieve its project objectives as per the acceptance criteria? Then you are the right fit to start a project management business in Dubai. However, to offer such services in Dubai, you should have in-depth knowledge of the specific sector you plan to target in Dubai, e.g., real estate, oil and gas, shipping, etc. Also, it is necessary to know about the country's legal framework and safety norms. And you should have access to adequate resources that you may need while offering project management services in Dubai.
Starting a project management company in Dubai sounds quite lucrative because the economy is thriving. With so many new projects coming up, you never run out of clients, provided you can offer top-notch services worth the money. You can target various sectors and offer diversified services. Thus you can expand the client base quickly. Once your business reputation grows, you can get Government projects too!
How to Start a Project Management Service Business in Dubai?
Decide the types of project management services you plan to offer. For instance, you can target the real estate and construction sector to offer services like designing, cost estimation, construction planning, and management services. Accordingly, you can decide the legal structure of your project management business.
Finalize a suitable name and reserve it. While doing so, you should be aware of the business naming protocols in Dubai.
Finalize a suitable location to set up the project management firm in Dubai. You can opt for

a free zone or the

mainland region. Take this decision carefully after weighing the pros and cons of both options.

Get a project consultancy license to start offering project management services in Dubai. The license is issued by the Department of Economic Development or DED. And then you need a few more

permits to carry out project-specific activities that are not covered in the trading license. To obtain these permits, you have to apply to the relevant authorities.

Open a bank account for your business transactions.
Few More Profitable Business Opportunities in Dubai
Construction-related businesses- you can become a supplier of skilled employees, raw materials, and other resources.
Offer financial services, e.g., bookkeeping, accounting, taxation, etc.
Foodstuff trading- you can export, package and distribute food supplies in Dubai. 
Offer security services to businesses and individuals, e.g., security device installation, and physical monitoring of properties and assets.
Consider starting eco-friendly businesses, such as waste recycling, industry composting, or furniture recycling.
Export and import business – you can pick up any product with global demand, e.g., dried fruits & nuts, garments, fashion accessories, automobile accessories, etc. 
Consider business franchising. Pick up sectors that are growing rapidly in Dubai, e.g., fast food, home cleaning, childcare, etc. 
Start a jewelry business by setting up a retail store.
Offer childcare services. 
Set up a recruitment agency. 
Few More Information About Starting a Business in Dubai
Now that you know what are the profitable business ideas in Dubai with enormous growth potential, you would like to know a few more things before taking the plunge:-
Can You Start a Business in Dubai as a Foreigner or Non-Resident?
Yes, you can. And the process starts with a proper visa application for yourself, your family members, and workers. While applying for a Dubai visa, you should submit all the necessary documents like the visa application, business plan, security amount, original passport or its copy, and latest colored photographs.
What is the Minimum Cost to Start a Business in Dubai?
Well, the cost depends on various criteria like the business size, location, nature of business, etc. However, to give you a rough estimate, the minimum cost of business formation in Dubai varies between AED 20,000 to AED 30,000. 
What Are the Various Costs Involved in Starting a Company in Dubai?
The total cost includes a) registration fees to form a company, b) payment to get the business license, c) Initial approval cost that is around AED 150, d) business name reservation charge of AED 620 and e) office rent and setup costs. 
Conclusion
Now that you have all the facts and stats about profitable business ideas in Dubai, it's time to act on these facts. However, you must do thorough research before taking the plunge. The safest approach for foreign investors is to take the help of a business setup service provider in Dubai. While such services come with price tags, they ensure peace of mind. You can be sure of expert guidance and quick execution without worrying about the legalities and formalities of opening a Dubai business.